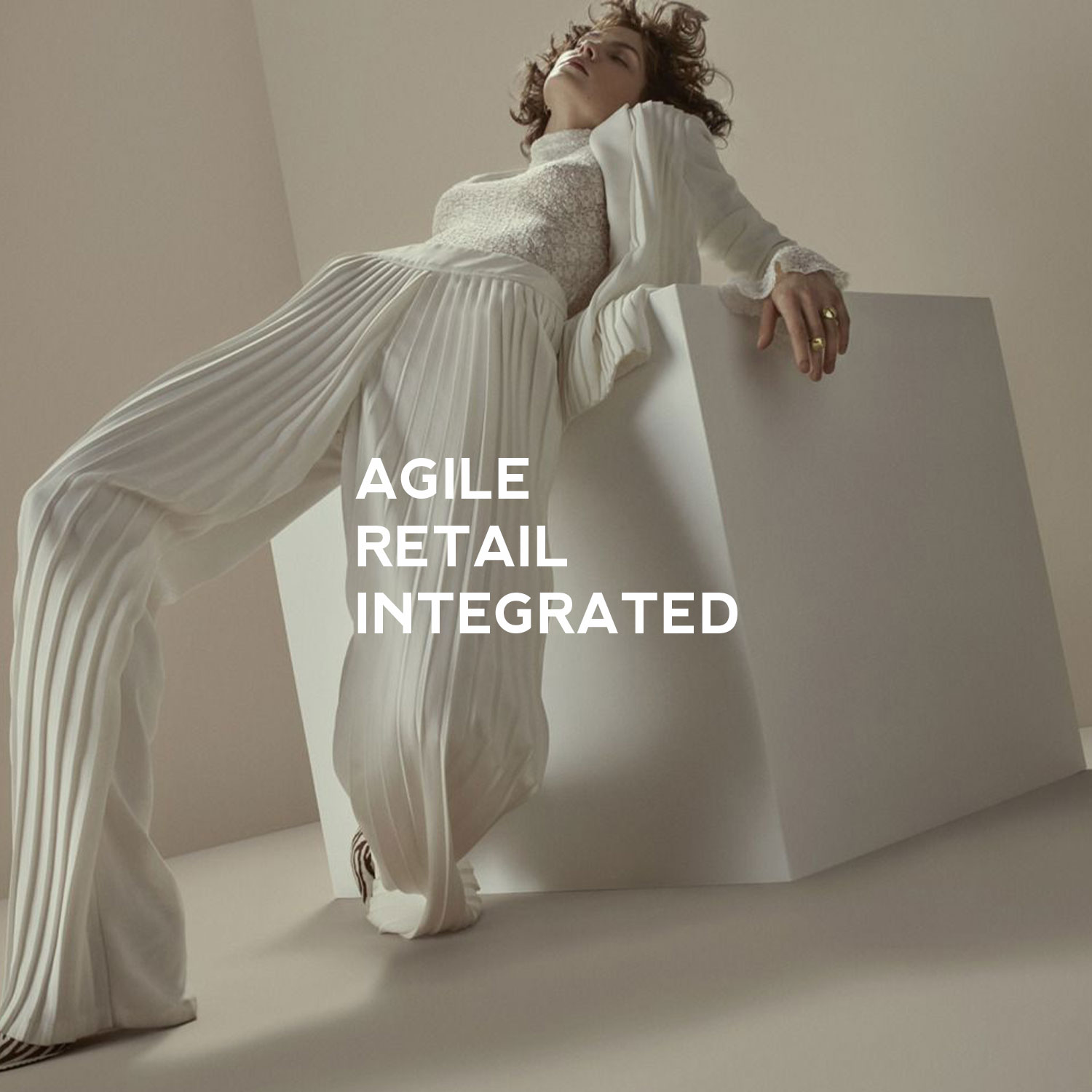 BrandStak is a next generation enterprise operating system for brand owners and vertical retailers. Delivered 'as a service' BrandStak addresses the issues these businesses face from a myriad of complex, legacy technology when trying to embrace latest generation marketing and retail technology.
Through our partnerships with key Mach and Marketing AI technology businesses we can deliver AI / ML empowered integration, analytics and data harmonisation creating 360 degree harmonised data flows from even the most complex and diverse back office applications. Ultimately, Brandstak provides the insight, connectivity and data services you need to create engaging customer journeys that will convert, retain and delight your consumers.
BrandStak and its microservices partners can deliver proven results in the Brand market - these include.
20%

Decrease in inventory and 15% improvement in demand fulfillment.

30% +

Reduction in cost to implement future solutions.

10%

Improvement in conversion combined with a 7% increase in AOV.

20%

Decrease in returns.

5-10%

Reduction in journey abandonment.

10%

Increase in click collect, & try and buy.
brandstak

meet the team
Ajay Khaitan | Founder and CEO

Visionary entrepreneur and cornerstone investor with 30+ years' experience leading operations and investments backed by the Khaitan Family Office. Managed individual branded businesses with retail revenues of over $1bn and investments aggregating ~$2bn (including 11 acquisitions and 8 start-ups) in Asia, Europe and North America. Deep focus on transnational and trans-channel development of Lifestyle Vertical brands through leveraging technology / data.

James Waterhouse | Co-Founder and CTO

Head of EMEA for Epicor Software up until the sale to Apax Partners. Launched Managed Services and SaaS product businesses as part of the management team of this $1bn ERP player. Cofounded KeyedIn alongside Lauri and George Klaus - now backed by Arrowroot Capital. Founded and sold several AI / ML focused start-ups. Technology Partner for UK PE groups in £150m-£750m retail, distribution, logistics and B2B environments. Recognized expert in the implementation of data science to support business objectives.

Angus Scrimgeour | Co-Founder and Chairman

Internationally-recognized multilateral and commercial banking, investment management and financial services revisioning expertise, often with the deployment of technology as an integral part of the transformational processes. Integral to Emerisque's investing activities in tech/ data for ~20 years. Background: World Bank / MIGA, The Corporation of Lloyd's, Citibank.

Dr. Tim Drye | Chief Data Scientist

Head of Applied Statistics at Cambridge University, Theoretical Statistical Physicist background, "Data IQ" Data Scientist of the Year recipient. Expert in AI and Machine Learning with a proven commercial track record across retail, aviation, government, charitable and enterprise organisations. Predictive model development for activities including Marketing, Operations and Supply Chain.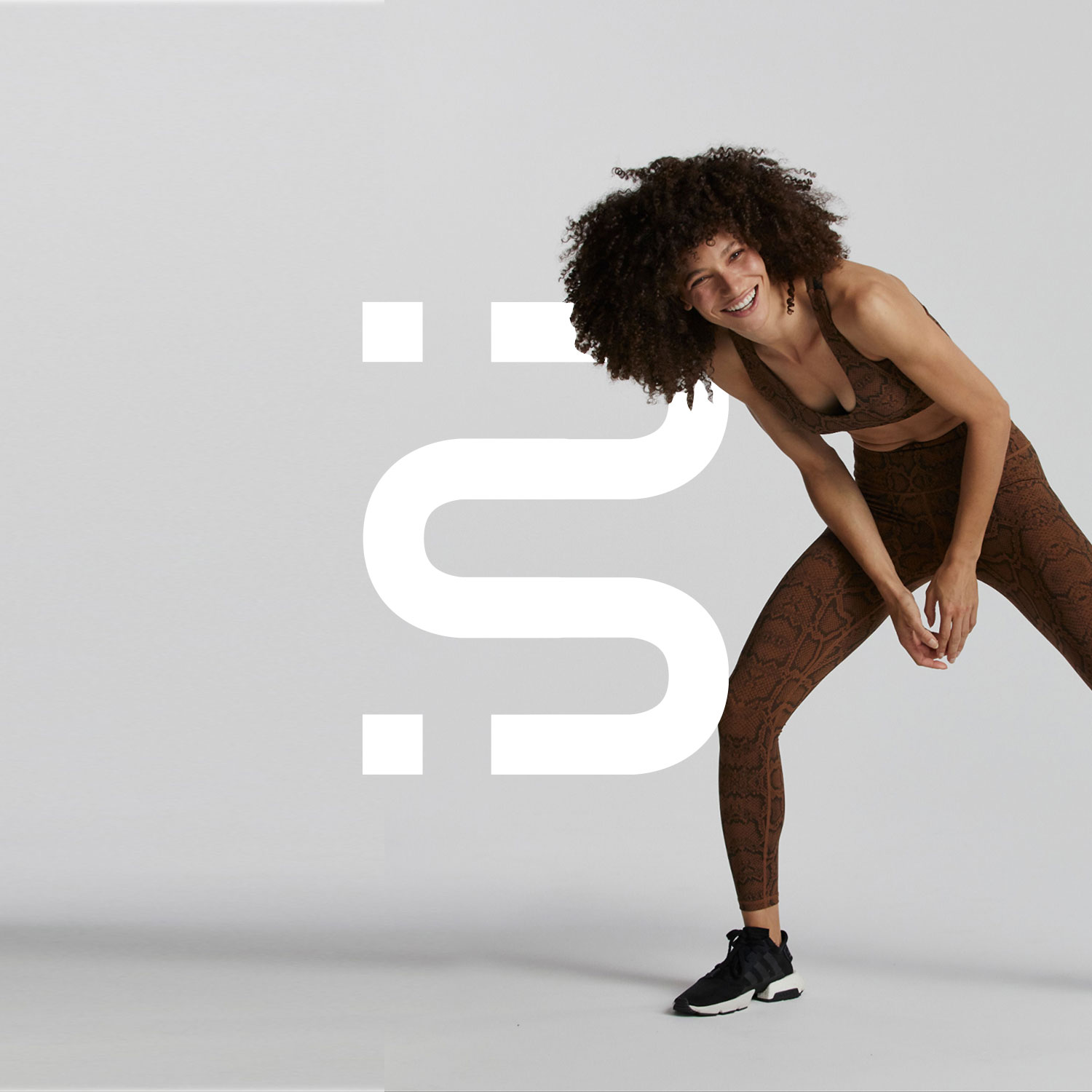 BrandStak – Data-first enterprise PaaS operating system developed specifically for the needs of the wear and home branded lifestyle sector
BrandStak ETaL - Rapid, AI driven data onboarding & ETaL services
Unified Commerce Database (UCD) – The central hub for all future product integrations and single version of the truth data lake
UCD API - Data and API ready pipeline
AI / ML Engines - Based on genuine retail/lifestyle only use cases
Easy adoption of MACH and Composable Commerce technology
BrandStak

Lifestyle & retail use cases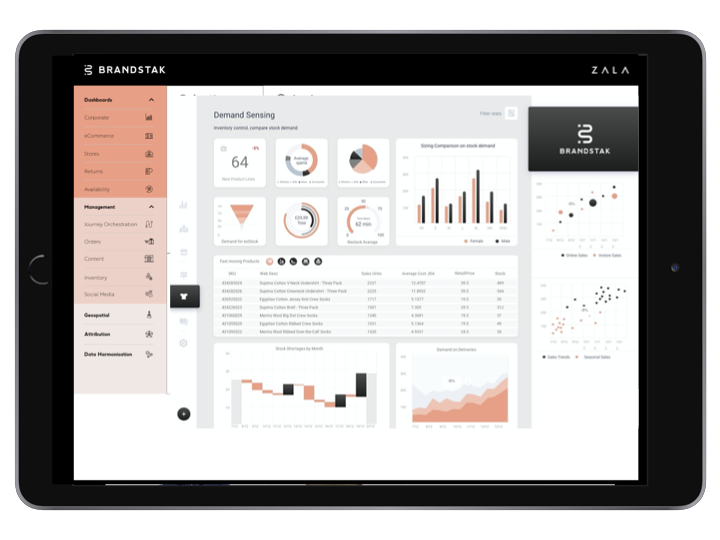 Identify demand for products across all consumer touch points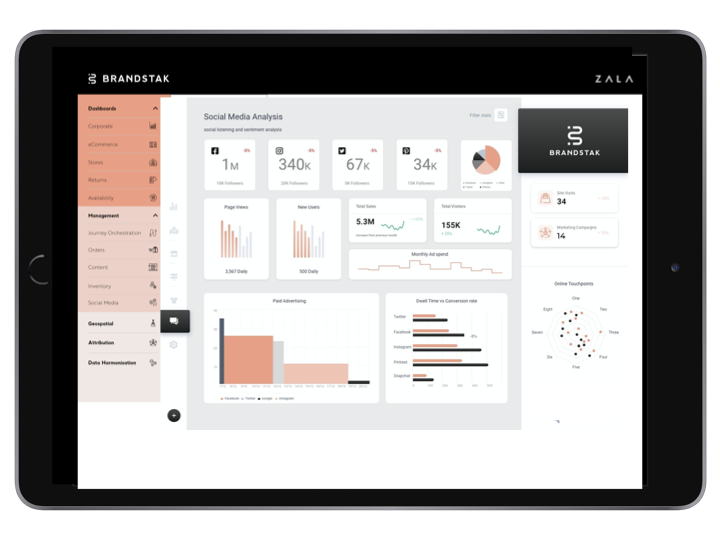 Maximize demand servicing for consumers with lower levels of inventory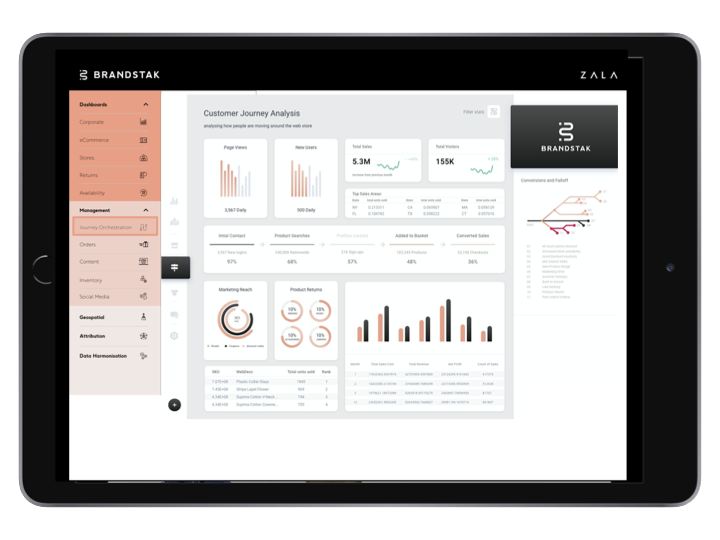 Understand, map and influence brand consumer journeys throughout the site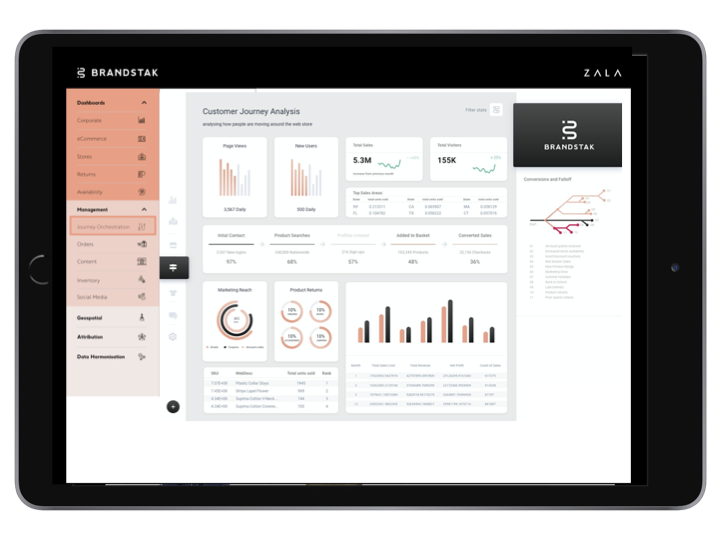 Drive footfall, increase clicks and engender loyalty through social media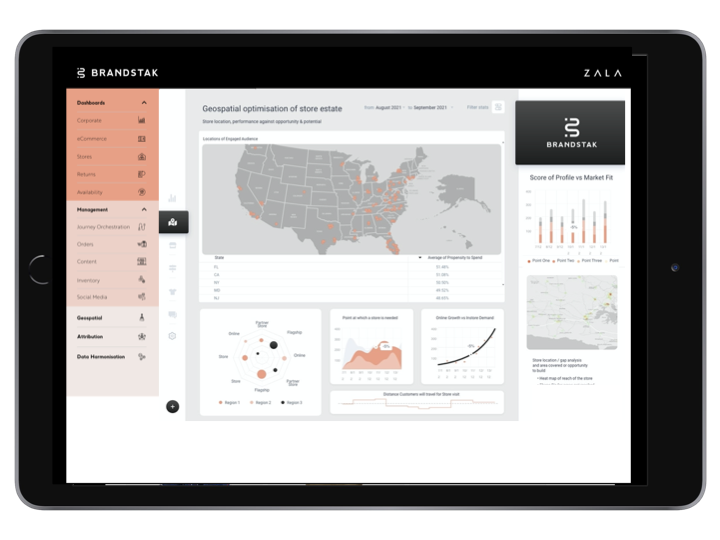 Maximize operating leverage through a better-quality store estate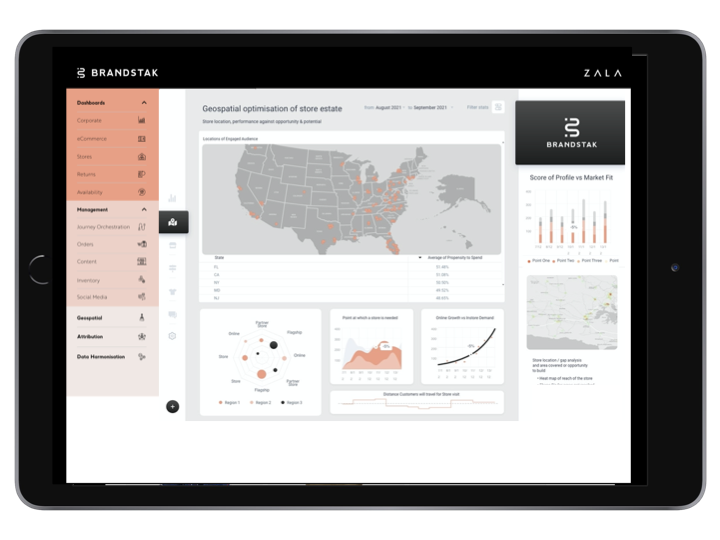 Identify the "value add" each store delivers to sales across all channels
Demand Sensing
Customer Journey Analytics
Social Media Analytics
Inventory Management
Geospatial Analytics
Programmatical Attribution
brandstak

An End To Wholesale Re-Platforming
01

Replacement of web and store analytics tools with BrandStak.

02

Augmentation of your existing storefront with new shopping cart and personalisation technologies to supercharge your customer journeys.

03

Improvement of omnichannel order management through joined up data management.

04

Implementation of additional microservices to support additional user journeys,

05

Re-implementation of the front end as a headless commerce interface.

06

Addition of further MACH, SaaS and composable commerce tools.
Our Differentiators
Integrating best-of-breed SaaS based solutions requires significant technical as well as sector knowledge; it is becoming increasingly complex and expensive for a mid market brand to match the customer experience of their larger competitors in a market where consumer expectations evolve at pace.
Our Mission
Democratize access to next generation data and systems by making full platform composable commerce / MACH accessible and affordable for the mid market lifestyle sector. BrandStak will make your existing platform MACH-ready at a cost you can afford, saving you many times its cost as you adopt future technologies and driving significant value add along the way.
Our Value
Presenting a single point of integration and a single version of the truth for the real-time performance management of products, locations, sites and consumer engagement. Solving key business issues - catalog management, real-time pricing, inventory utilization &#8211 alongside the ability to track and react to market signals.
brandstak

Partners
BrandStak
A new, easy-to-implement and cost-effective AI / ML -based data unification, analytics and tech integration platform, designed for augmented decisioning in the consumer and retail sector – is pleased to announce two new strategic partnerships. BrandStak has been incubated by the Emerisque Group, a specialist global investor in mid-cap consumer and retail brands.




From the press
ShopTalk UK 2022, an event that unites the European consumer and retail ecosystem at the most senior levels, marks the beginning of strategic partnerships between BrandStak and commercetools as well as Fluent Commerce.




From our founder
Ajay Khaitan, Founder of BrandStak and a serial investor in consumer and retail brands and "data-tech", said, "By providing decisioning insights into the key assets of a retail business (Products, Customers, Distribution Channels and the Environment), BrandStak demonstrates the value of fluentcommerce's OMS, constantly identifying new opportunities to exploit its power within a client's business ecosystem."

James Waterhouse, CTO at BrandStak, added: "our Meta-Event real-time analytics platform will provide triggers to commercetools, that will optimise multi-mode commerce routings and journeys to enhance customer satisfaction and conversions."

Links from the press:London Loves TechLondon BusinessLondon Business
What our partners say
Commercetool's Dirk Weckerlei, VP Global Partnerships at commercetools said, "BrandStak will allow us to reduce our cost, risk and time to market in respect of implementations, providing deep insights into how we create value for our customers."

Fluent Commerce, Jamie Cairns CSO said "Brandstak will make a significant contribution to both conversion and project delivery for our clients. The simplified integration and speed to market that Brandstak offers, over a traditional implementation approach will allow clients to realise the benefits and ROI much faster than before."